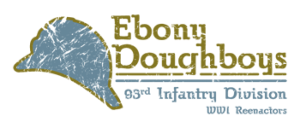 April 29, 2017 Black WW1 Doctors Visit Raleigh's Pope House Museum The Ebony Doughboys Participate in the "Black Pioneers in Uniform" Program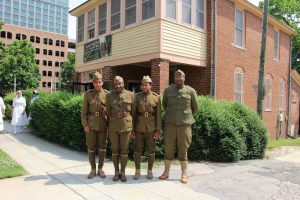 : For years, the legacy of African American World War One servicemen has largely been unsung, least of all the stories of those doctors who volunteered to be medical officers. However, this is slowly changing. Black Pioneers in Uniform: Shaw University's Leonard Medical School & the Great War is a new living-history event hosted by the Pope House Museum to commemorate those Leonard graduates who became medical officers, including the community that nurtured them, and the life of Dr. Manassas Thomas Pope. Many of them were taught by Dr. Pope, who was himself a veteran of the Spanish-American War, Raleigh's first licensed African American physician and a bold civic leader who ran for mayor in 1919. Today his home, acquired by the City of Raleigh in 2011, stands anachronistically in the central business district, an artifact of the then-black residential Fourth Ward and testimony to his influence.
By the turn of the 20th century, only three Historically Black Colleges and Universities had medical programs: Meharry in Nashville; Howard in Washington, DC; and Leonard at Shaw University in Raleigh. Leonard Medical was the first, opening in 1880, yet due to rising costs closed in 1919. However during this period, it produced 400 physicians which included 13 of the 104 African American volunteer doctors of the First World War.
"This program is designed to connect a community with its own World War One legacy; we are honored to participate," said Art Collins, founder and president of the Ebony Doughboys, the only organization of living-historians educating the public on the impact of those African Americans serving in the Great War. Ebony Doughboys was pleased to have W. Douglas Fisher author of "African American Doctors of WWI  to talk about these groundbreaking heroes. "We are excited to have the unit support our event," said Ernest Dollar, manager of the Pope House Museum. "They bring knowledge, and dedication, to a story that is largely unknown."