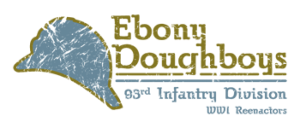 The Ebony Doughboys WWI Reenactors partnered with members of Cesar Rodney HS. JROTC at the Veterans Day Parade at Dover Delaware on November 7, 2015 to honor the veterans that served in the 93rd Infantry Division in WWI.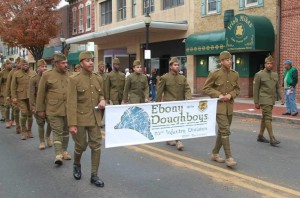 The 93rd Infantry Division was a segregated Infantry Division in WWI.
The Division included medal of honor winner's Henry Johnson  of New York, Freddie Stowers of South Carolina as well as Needham Roberts winner of the Croix De guerre from Trenton, NJ.
The 93rd Infantry Division was the Division of the Harlem Hellfighters and the Bloody Red Hand Division.
African American soldiers in WWI fought under French command. General Pershing gave the all black 92nd and 93rd Divisions to the French to satisfy the French Armies manpower shortages and to also satisfy the American High Command's segregated policy towards black troops serving in combat.
The state of Delaware was the home of many African American soldiers that served in WWI. Ebony Doughboys and Cesar Rodney's JROTC was proud to represent these heroes on veterans day.