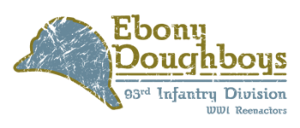 For the 5th straight year Ebony Doughboys INC has had the pleasure of appearing at the Trenton Old Barracks Museum for the 3rd annual 3 Centuries of African American Soldiers event in Trenton, NJ for Black History Month.
3 Centuries as we affectionately call this timeline event is hosted by the Trenton Old Barracks Museum in honor of the black soldiers who fought in Americas wars from the Revolution up to WWII.
Reenactors from these time periods tell the story of the African American Soldier, Sailor and Marine in Americas segregated military.
Members of Ebony Doughboys Reenactors INC told the story of soldiers of the 93rd Infantry Division prior to going to France and while in France during WWI.