Collar Discs
US regulations required the Doughboy to wear two collar disks on his uniform.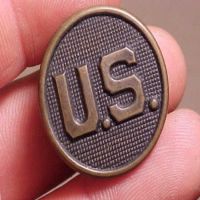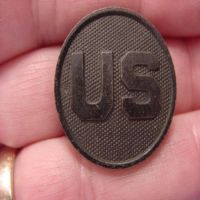 On the left collar, the branch of service disk was to be worn. For most of the units that we portray, this will be the infantry collar disk which consists of crossed rifles. The crossed rifles disks may also include a letter which designates the company or a regimental number or both.
On the right collar the Doughboy was required to wear the US collar disk. This disk could also be replaced by a National Guard or National Army disk, depending on the unit that we portray. For example, the 372nd contained elements of National Guard units from various states, so when portraying the 372nd, the National Guard disk worn on the right collar is acceptable. Similarly, the 370th regiment contained elements of National Army units and the National Army disk can be worn on the right collar as a replacement for the US disk. Some US disks can also be found with the regimental number (369th, 370th, 371st or 372nd) affixed.
The third disk to be worn was to be affixed to the left side of the overseas cap. Army regulations indicate that the disk that is worn on the cap should be the same as the disk worn on the left collar. However, photographs bear evidence that the disk on the cap and on the left collar of the Doughboy often did not match. Any type of disk that is an accurate option for portraying a unit is acceptable (US, Infantry Crossed Rifles, National Guard, National Army, Regimental).
Alternatively, Doughboys were often seen wearing overseas caps with the brass French numerals affixed to designate their regiment. The simplest and most versatile combination is to wear the infantry crossed rifles on the left collar and on the cap, and the US disk on the right collar.
As a basis of our historical interpretation, we engage in the extensive research of the role of African Americans during this period by studying and reading personal accounts, archived sources, photographs and other source material. We examine photographs and original garments, accoutrements and weapons to gain a thorough understanding of the original Ebony Doughboys. We strive to reach a consistent, high level of authenticity in our appearance, realizing that as our knowledge grows, our standards for authenticity will also evolve. Members are expected to present themselves to the public with military deportment, an open-mindedness for learning, and a commitment to educating, dispelling myths, and building bridges of understanding.
Back to UNIFORMS PAGE